Shaquille O'Neal was born in the Brick City of Newark, N.J. and raised on the military bases of Germany and Texas. He has more post skills, gold and platinum albums, personality, swag, fan appeal and street credibility than just about any basketball player in NBA history.
Dont act like you dont know that The Big Homie was the first professional athlete to go platinum. He signed to Jive Records in 1993 and released his debut album, Shaq Diesel that year. The album hit No. 25 on the Billboard 200 and No.10 on R&B/Hip-Hop Albums, and was certified platinum by the Recording Industry Association of America (RIAA).
Yup. Thats realer than Real Deal Holyfield. He did collaborations with some of Hip-Hops greatest stars and his lyrics, spirit and delivery passed the smell test in the Trap, same as his ball skills did on the screen.
Shaq did all of that while helping to build the Orlando Magic franchise into a rising juggernaut as soon as he stepped on the scene. Thats Shaq in a nutshell. He snatched NBA Rookie of the Year honors, averaged a savage 23.5 points and 13.9 rebounds per game and and helped to further Hip-Hop's penetration of the mainstream and the NBA's conservative corporate values.
Few legends have transcended the game as emphatically and totally as Shaq, who was not only one of the Goliaths of the game and the last truly great center to grace an NBA court, but a larger-than-life character who made his mark as an entertainment and business mogul, and and continues to do so now as a member of basketballs flagship studio broadcasting team.
Shaqs myriad talents and his penchant for comedy resulted in him taking on many personalities and a variety of nicknames over the years: The Big Baryshnikov, Wilt Chamberneezy, Shaq Fu, Shaq Diesel, Horse, Superman, Shaq Daddy… and the list goes on.
While other flashy, petite ballers were credited with being the face of the NBA and the new generation – first MJ and then most notably Allen Iverson and later Kobe Bryant – Shaq never lacked fan appeal and his presence was all-encompassing.
On the court, Shaqs combination of speed, strength size, athleticism, flair, confidence and leadership is mythical: 4 NBA championships, 3 finals MVPs, and 1 league MVP to stamp 19 years, 28, 596 regular season points and 13,099 rebounds of brilliance.
The 7-1, 320-pounder was already tabbed for superstardom when he departed Louisiana State University, where he briefly showcased his revolutionary talents and enjoyed a much-needed maturation process before bum-rushing the NBA show as a rookie with the Orlando Magic in the 1992-93 season and becoming the youngest player in NBA history to average 20 points and 12 boards per game.
He didn't duck the giants or miss the golden-age of centers. He gave all of them the business; Patrick Ewing, Hakeem Olajuwon, David Robinson, Mutombo, it didn't matter.
Free throw shooting aside, he was the prototype center of the new millennium. He could take it coast-to-coast on a boogie dribble, he ran the break like a dinosaur-sized gazelle and he was more agile than the traditional low post threat.
Shaq was the once-in-a-lifetime center that encompassed the defensive intimidation of Bill Russell, the scoring prowess of a Patrick Ewing and the athleticism of a David Robinson while believing he could be Tiny Archibald.
He was the complete opposite of the awkward big man struggling to find his way among the lightning-quick guards and silky smooth forwards. Shaq embraced and accepted his size at a young age and he was able to use it to his advantage.
He probably had the most fulfilling and exciting journey of any NBA baller that comes to mind. Sure he indulged in the LA lifestyle and the women and the cars, clothes, bank rolls and mansion parties. He also never got in trouble and eventually became a Deputy Sheriff.
He also kept it close to the hood, becoming an accepted and honorary street disciple of all projects in any other hood or sub-culture atmosphere where there was a mic, a stage, a camera, some rugged fun and a sense of community.
His classic quotes were never ending and he knew how to finesse the media and his coaches. It wasnt hard. Everybody wants to be friends with the big dude. Shaq made everything he did in life look easy and because of his size, people probably took his genius for granted. He did however make sure people understood that he was more than just a behemoth jock.
His biggest challenge in life was probably Kobe Bryant. Shaq probably got more hood love off the court, but Bryant is the one player in Shaqs career that wouldn't back down to The Diesel.
Shaq undoubtedly despised Kobe at times and felt he was a spoiled kid who felt a sense of entitlement. Shaq made Kobe wait his turn, hold his jock strap for a moment and earn his respect. In the end, he was the best big brother young Kobe could ever have and they both grew to eventually respect each other.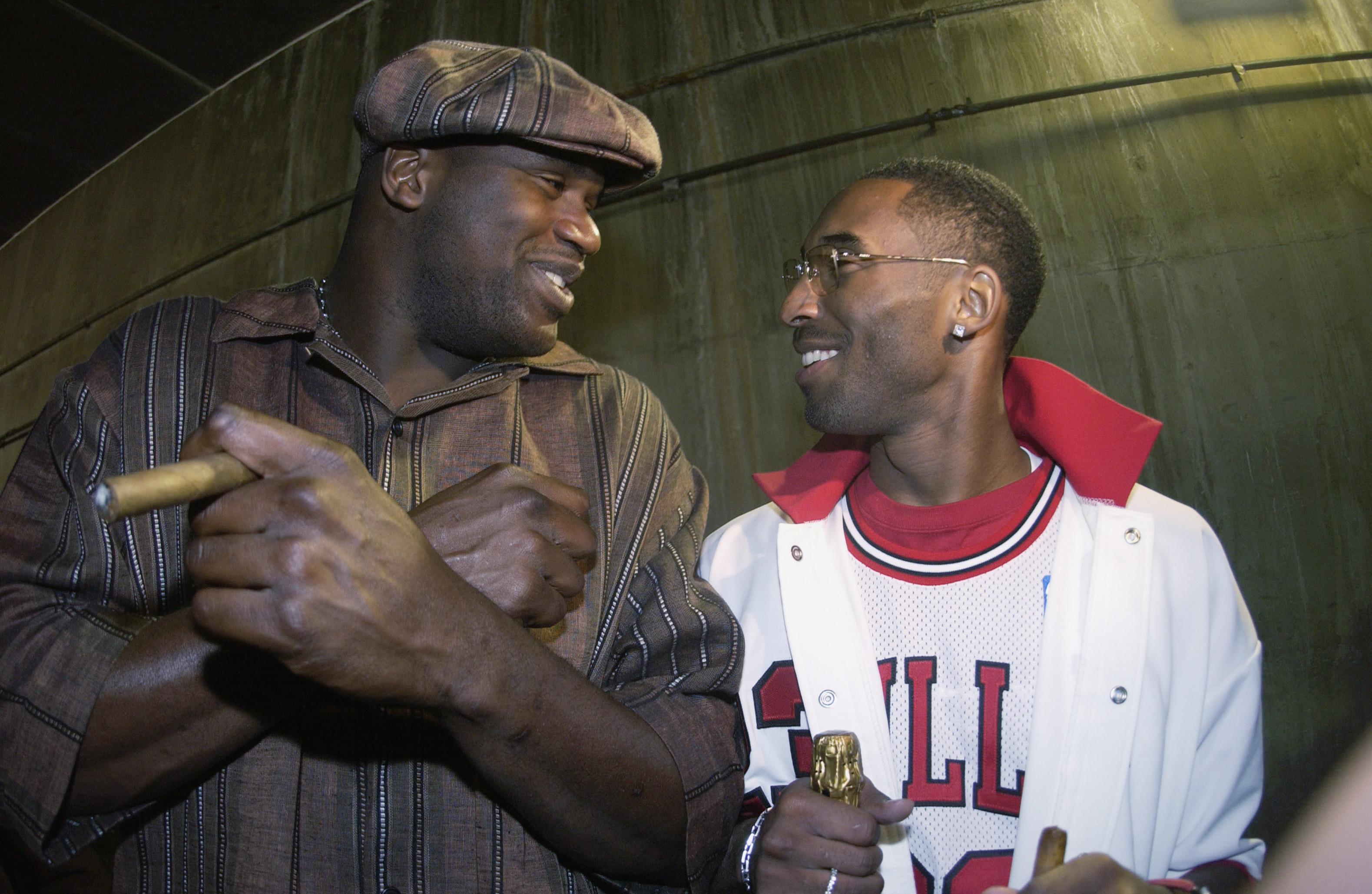 (Photocredit: Slam Magazine)
As time passed, Shaq lauded Kobe for his competitiveness and the disdain he may have once held for Kobe turned into admiration as the years progressed.
The alley-oop Kobe threw to Shaq in Game 7 of the 2000 Western Conference Finals that put the Lakers up 6 with 43 seconds left is a defining moment in both of their careers They passionately embraced as they went on to win their first championship together. Thats a scene I could never forget.
Shaqs father Phil constantly told him, "You have to entertain and you have to dominate." Shaq certainly was a pro at both.
Now, 44 years of age, Shaqs 2009 All-Star Weekend dance routine with the Jabbawockeez, a well-known hip-hop dance crew, was his final unprecedented fusion of street culture and the NBA and it confirmed him as basketballs captain of color for his generation and a mighty sword that could cut through any political, bureaucratic or racial red tape in his path. And not by the pounding of his fist or the intimidation he would inflict on the opposition, but with a nod and a smile.
The last of his ilk, Shaq deserves the most high praise on his Hall of Fame induction, and the NBA and TV execs know exactly what theyre doing by keeping him around and letting him spread his infectious personality to millions of viewers during basketball season.