The Shadow Leagues initial NCAA Tournament predictions now are in complete shambles as we look upon a landscape riddled with the remains of teams I was certain would fit snugly into my Final Four. So, right now we pour a little something out for those NCAA College Basketball playing brothers who are no longer here. Cue the Boyz II Men music please as we give a shout out to a Baylor Bears team that I had as a Final Four team.
Somebody come to the altar and say some kind words about 4-seed Georgetown University,and 3-seed Iowa State, and maybe say something about how the Cinderella postseason that 11th seeded UCLA has been having. Despite some of the craziness that has been going on in the South Regional, the chaos appears to be coalescing toward 1-seed Duke University facing off against the 2-seed Gonzaga. The attrition rate of big name schools like Georgetown and Iowa State is to be expected this time of year, but the fact that a traditional basketball powerhouse like UCLA can masquerade as a Cinderella gives us some idea of the competitive parity that weve enjoyed thus far.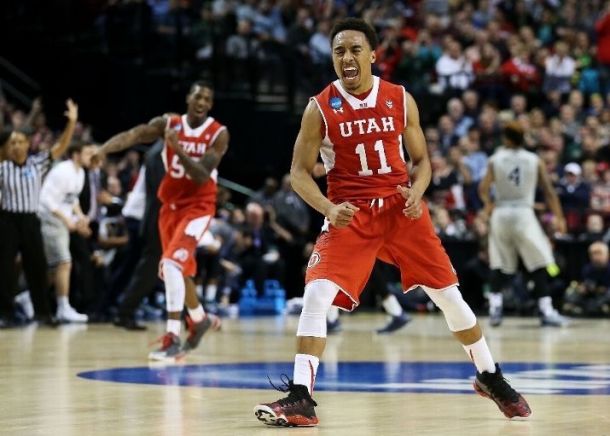 But all that is going to come to an unceremonious end when the Bruins play No. 2 Gonzaga next Friday. UCLA fields a very talented offensive unit that is sparked by coachs son Bryce Alford and bruising center Tony Parker. However, the Zags are a complete team that might just have the best front court in the nation with Kentucky transfer Kyle Wiltjer , PF Domantas Sabonis and C Przemek Karnowski. PG Kevin Pangos is one heckuva third scoring option as well, shooting 45 percent from three point range. Gonzaga moves on to the Elite Eight rather easily.
Meanwhile, the Utes have advanced to the Sweet 16 thanks to shooting 57.9 percent from the floor against the Hoyas, and keeping resident GTown scorer DVauntes Smith-Rivera in check for most of the game as well. However, Duke University is far deeper and more versatile on offense with C Jahlil Okafor, PG Quinn Cook and PF Justise Winslow. Utah is just too small and lacks the athleticism to hang with the Blue Devils once they turn on the burners.
Duke University will absolutely dismantle the University of Utah and advance to the Elite Eight to face Gonzaga, which just so happens to be the only portion of my bracket that still has a high probability of occurring.