Karl-Anthony Towns

-

search results

If you're not happy with the results, please do another search
The rosters for the 2017 Rising Stars Challenge have been announced.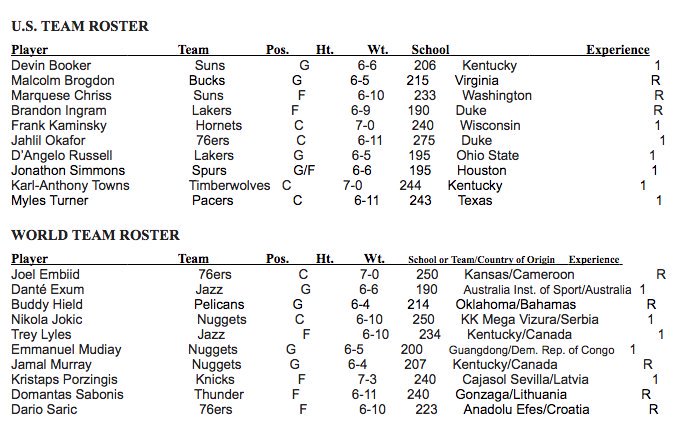 The rosters look evenly matched.
It may not happen this season or next, but one day Cavs GM LeBron James is probably going to verbally admit that he regrets trading off future
We've reached the NBA's mid-season mark and it's time to start taking stock of what we've seen thus far.

The Top Four

The best teams thus far, in order, have been the Warriors, Spurs, Cavs and the Rockets. No real
As far as Andrew Wiggins is concerned, the goal is clear and defined.
From his perch, the Minnesota Timberwolves forward doesn't see any reason why a Canadian can't become the face of the National Basketball Association. He's ready to become
The NBA season kicks into high gear this weekend, and The Shadow League convened our round-table of basketball experts to break down their thoughts, insights and observations, Wu-Tang-style, on the league's scrumptious holiday offering on Chris
As we approach the opening tip of the 2016-17 NBA regular season, The Shadow League looks at every one of the leagues six divisions and the players who will make this year an unforgettable one. Today, we examine what's soon to be popping in the
In his NBA Summer League debut on the 4th of July, No. 1 overall pick Ben Simmons looked like a star in the making while playing point-forward. He snagged boards, pushed the rock with confidence and fed his teammates with some nice transition dimes
For the NBA fan 25-years-old and over, 2016 is a weird year. Michael Jordan is a meme, Kobe Bryant is done wearing Purple & Gold and cats is out here dry snitching on teammates with video tapes (and not catching no types of fades).
Des
Markelle Fultz scored 19 points, including three 3-pointers, on Friday night at the Barclays Center in Brooklyn, N.Y. at the Jordan Brand Classic All-American game.
A 6-foot-4 senior point guard from DeMatha Catholic High School in Hyatts
Rutgers Men's Basketball is an odd thing to behold. A beautiful campus, situated in a state rife with basketball talent, the program is in a conference that most blue chip prospects would gladly amputate a finger to compete in, yet they're the lau