Karl-Anthony Towns

-

search results

If you're not happy with the results, please do another search
The NBA world is butt hurt because Kyrie Irving said he wants out of Cleveland. Lebron Stans are befuddled by Irvings desire to part ways with the NBAs biggest brand name. Once Kyrie announced his desires, of course, he was going to be the subject
In a few hours,we'll finally know the selection order of the NBA Draft once the lottery process has been sorted out in advance of tonight's Game 2 Western Conference Finals tipoff between the Golden State Warriors and the San Antonio Spurs.
F
With the NBA regular season in the books and the 2017 Playoffs ready to tip off this weekend, we've assembled our team of hoops experts, Amaar Abdul-Nasir,
Nike has partnered with New Orleans artist Brandan Bmike Odums to bring its recently launched campaign EQUALITY to life by transformin
If youre not into the circus atmosphere of the Slam Dunk contest or the defense-optional style of the All-Star Game, then the best part of NBA All-Star Weekend is that it represents the calm before the storm that is the regular seasons finishing
The rosters for the 2017 Rising Stars Challenge have been announced.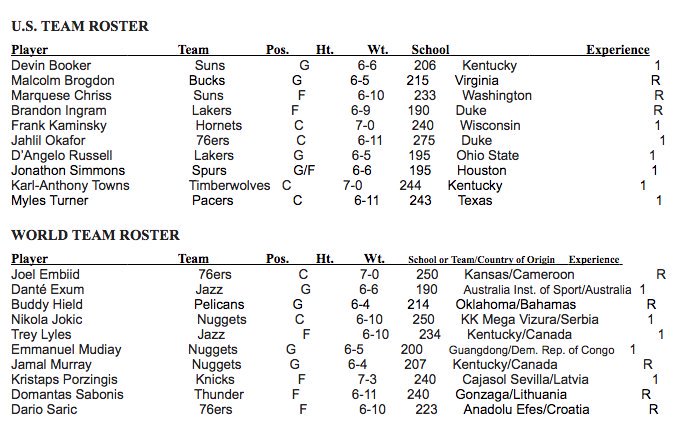 The rosters look evenly matched.
It may not happen this season or next, but one day Cavs GM LeBron James is probably going to verbally admit that he regrets trading off future
We've reached the NBA's mid-season mark and it's time to start taking stock of what we've seen thus far.

The Top Four

The best teams thus far, in order, have been the Warriors, Spurs, Cavs and the Rockets. No real
As far as Andrew Wiggins is concerned, the goal is clear and defined.
From his perch, the Minnesota Timberwolves forward doesn't see any reason why a Canadian can't become the face of the National Basketball Association. He's ready to become