Green Bay Packers running back Ty Montgomery is an example of the term stay ready and dont limit your possibilities. Any kid that has ever wanted to be a pro in any sport has been told these words of wisdom somewhere along the way.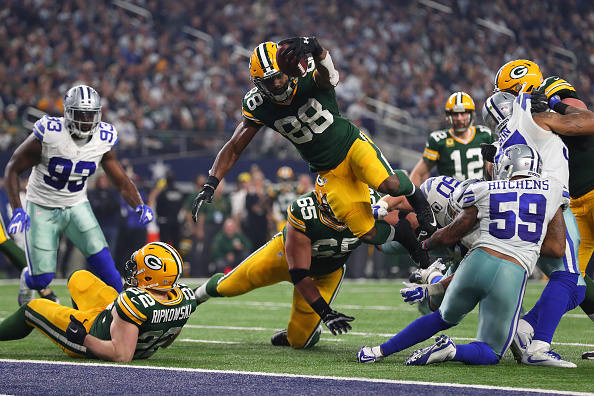 Some guys play shortstop until they get to high school and find that Derek Jeter is there. Then all of a sudden they become fans of the outfield and are willing to move off the dirt for an opportunity at the next level. We have great college quarterbacks such asDenard Robinson and Terrelle Pryor who changed skill positions in order to play on Sundays. It's all part of the journey up the ladder.
Montgomery was a third-round pick out of a multi-faceted Stanford offense in 2015. Initially he was considered another weapon for the great Aaron Rodgers prolific aerial attack. In a twist of fate, Green Bay's lacking of a running game was destroying their season. Montgomery successfully moved to running back after Eddie Lacy and James Starks suffered injuries early on. He eventually became the offenses starter and saved the feeble ground game at running back, averaging 5.9 yards per haul, rushing 77 times for 457 yards and three touchdowns.
That was on the fly too. WhenLacy signed with Seattle this offseason, the competition was none for 6-0, 216-pound, 24 year old from Mississippi.
Montgomery told ESPN on Tuesday that the things he had to know at the wide receiver position is much different than being a running back and having to read linebackers and defensive lineman, etc.
He says hell be better this season, now that I have the time to put my efforts into learning and knowing (the different things the position entails)."
So far the transition is looking seamless. Montgomery didnt even have to change his number. Because he switched from receiver (an eligible pass receiver) to running back (an eligible pass receiver), a number change isnt necessary.
So, Montgomery might confuse a few folks this season now that he has sole possession of the No. 1 running back spot, as they will see No. 88 leading the ground and pound portion of Green Bay's offensive attack.
The last receiver turned running back that I remember is big Rod Bernstine who transitioned from tight end to running back for the Chargers in the late 1980's and kept his No.82.
This was more of a story in the '80s, because the game was different. Offensive positions were more clearly defined. With the modern transition into a pass-first league, dual capable running backs are most coveted and Montgomery fits the bill as he also caught 44 passes in 2016.
The Packers went into the third day of the draft with three running backs on the 90-man roster. They kept adding bodies, drafting three running backs in the final four rounds. They took BYUs Jamaal Williams in the fourth round, Texas-El Pasos Aaron Jones in the fifth and Utah States Devonte Mays in the seventh to increase their backfield options for the 2017 season.
For now, however, those guys havent shown to be a better option at running back than the untapped Montgomery, who should move into the upper echelon of dual-purpose backs this season as he will get plenty of opportunities.
Absolutely, [Montgomery] is our starting running back, McCarthy said, via the Wisconsin State Journal.
Montgomery carried the ball more than 10 times just three games last season, but he showed that he could handle the position switch and move the chains. Now all he has to do is keep running and keep his job.