Resiliency, honor, talent, and respect for the craft are qualities synonymous with most all-time greats. When it comes to sports journalism, few have displayed these qualities as consistently and genuinely as Rob Parker.
Parker is a bona fide pioneer in sports journalism. In his 32-year career, Parker has both broken down barriers and reached back to lift up younger sports writers on the come up. In 2012, after an eight-year run on ESPN, Parkers contract wasn't renewed after a controversial episode of First Take in which he referred to former Washington Redskins quarterback RGIII, who was the darling of the NFL at the time, as a cornball brother. His most controversial moment as a journalist has turned out to be one of his defining moments. It showed the world what Rob Parker was made of.
ESPN refused to renew Robs contract and some even claimed that he would never rise to such heights again. It turned out to be the step backward that he needed to eventually ascend to his current lofty status as a fixture in the corporate sports talk game.
It's My Time To Shine
Fast Forward to 2018 and the lanky kid from Queens with an unwavering love for baseball, not only bounced back but elevated an already legendary career to new heights. Parkers finally getting the props he deserves as he was named the National Association of Black Journalists Sports Task Force Journalist of the Year.
Back in Detroit. Good morning, Motown. Here for the @nabj annual convention. Can't wait to learn and mingle. #NABJ2018
The award is not only a deserving blessing for a guy who has accomplished incredible feats in a career that spans five decades, but it represents the strength, remarkable consistency, integrity, diligence and pioneering spirit that has come to define his illustrious portfolio.
Parker will receive his award in a ceremony Friday night during the National Association of Black Journalists (NABJ) convention in Detroit.
What an honor, said Parker, a Fox Sports 1 analyst. Im so humbled.
Theres nothing better than being honored by your own people and peers. To be honest, Im thrilled to be recognized among so many fine journalists.
Currently, Parker appears regularly on Undisputed: Skip and Shannon and The Herd on FS1.
FS1 contributor Rob Parker joins Undisputed with Skip Bayless, Shannon Sharpe and Jenny Taft to discuss whether or not New England Patriots quarterback Tom Brady is carrying one of the worst rosters in the NFL on his back.
He also co-hosts a national sports-talk radio show with NBA guru Chris Broussard called The Odd Couple on Fox Sports Radio.
Chris Broussard and Rob Parker debate whether or not the NFL's new helmet rule actually makes the game even more dangerous. https://t.co/9UvtBTJfyb
In addition to those prestigious gigs, he also writes a weekly column for The Shadow League.
Its fitting that Parker, 54, will receive the award in Motown. He was the first black sports columnist for the Detroit Free Press. When he was hired in 1993, the newspaper was 161 years old.
Leaving NYC for Detroit changed my life and career, Parker said. It was where I blossomed into the journalist I am today.
I was given so many wonderful opportunities in Motown. It launched my career nationally.
Prior to his first go-round in Detroit, Parker was also the first African American to cover the Cincinnati Reds when he was hired by The Cincinnati Enquirer in 1991. In 1995, Parker returned home and became the first black sports columnist at Newsday in New York.
In fact, Parker is believed to be the only black sports columnist to write for two different papers in the same major market. First, the Detroit Free Press and then The Detroit News, when he returned to The D in 2000.
NABJ18 Detroit Flashback: I wrote a column for both the Detroit Free Press and The Detroit News. Here's a News column from 2003.
It Was Written
Parkers dream of being a sports writer started young. At nine years old, Parker made up his mind that he wanted to be a sports writer. He was an excellent writer in school. He loved sports, was an avid baseball and basketball participant and he complimented his physical comprehension of the game by reading three newspapers a day.
With few African-American faces to emulate in the sports journalism game, Parker aspired to be Oscar Madison, the white sports columnist from the 70s TV sitcom, The Odd Couple.
From there, Parker couldnt be stopped.
I wanted to either play first base for the New York Mets or have my own column in the paper, he said. I thought being a sports writer was the best job on the planet.
As it turns out, I was right.
As a high school student at Martin Van Buren H.S. in Queens, and with no one to plug him into the game, Parker decided to make some things happen for himself. In 1980, at age 16, Parker was frustrated by how long the process was for the school paper to be published. At Van, Parker could write a story about the basketball team but by the time The Bee Line was printed, it would be baseball season.
Parker went to the principal with an idea to start a monthly, all-sports newspaper. The principal wasnt supportive at all. He told Parker that the school had no money for it and that it would wind up being another piece of paper the kids would throw on the floor.
Still, Parker had an unrelenting attitude instilled in him by a single mother who purchased her own house in an upscale area of Addisleigh Park, Queens during an era when women biasedly and sexistly werent allowed to conduct business if a male wasnt present.
The story of Mrs. Parkers strength is one that has stuck with me during the two-plus decades that Ive known Rob. Ill never forget it. Rob tells this story with a pride in his eyes that could light up 10 Manhattan blocks. So its no surprise that he wasnt willing to give up with his newspaper proposal. He asked that if he raised the money himself, could he start it? The principal eventually gave in.
Grinding
Parker wrote three letters in an attempt to get money for his project: one to The New York Times, another to the New York Post and the third to the Daily News, Parkers favorite newspaper growing up.
The Daily News didnt write him back. The Times wrote him back and said it was against company policy to help other people start a newspaper. (Didnt they realize he was just 16?)
Despite facing a two-strike count, Rob didnt strike out. He smoked one over the fence with the help of The Post. The letter was originally addressed to Rupert Murdoch, who was the publisher. Back then, there was no Fox TV. Parker received a check for $50 from Murdochs office. Sports Line was born.
Its a real story, Parker said. I was shocked back in 1980 that I got a check in the mail off a letter I wrote at my kitchen table.
And when I think about it today, its even more amazing. It tells you anything is possible if you dream and put in the work. I did both.
Hence, its only fitting that 38 years later, Parker is working for Murdoch at Fox Sports 1 in Los Angeles. He joined the show Undisputed when it launched in September 2016.
Before getting to FS1, which can be considered the top of the totem pole in sports journalism, there was an incredible journey filled with many accomplishments along the way.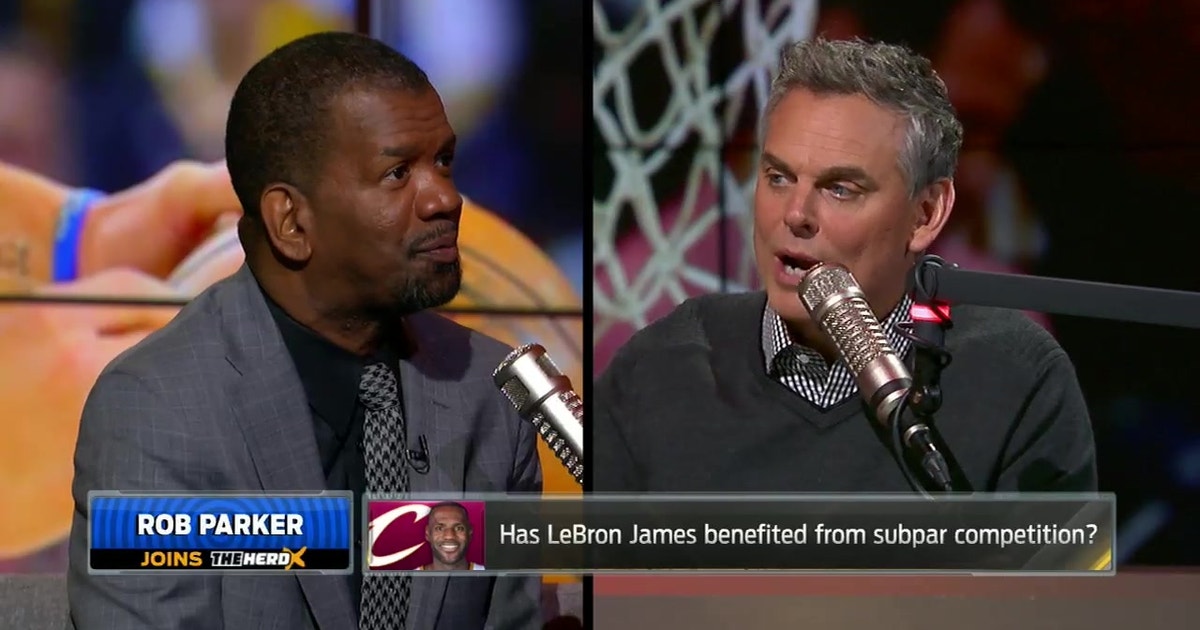 Its On
After graduating from Southern Connecticut State University, Parker landed a job at the Daily News in New York. In 1986, at just 22, Parker was hired as a full-time, general assignment sports writer.
Its not often you reach your dream job five months out of college, said Parker, who also earned a Masters Degree from Columbia Universitys J-School in 1988. But I did.
It didnt make me relax. Instead, it fueled me to see what else was possible and for me to dream some more.
I honestly believe I havent reached my full potential despite getting a tremendous opportunity so early in my career.
In addition to being an award-winning sports columnist at The Detroit News for nine years, Parker also entered the radio world, becoming the first on-air hire at WDFN-AM 1130 in Detroit – the citys first all-sports station in 1994. Lorna Gladstone hired him 10 mins into his interview at the station.
Parker also had a successful 10-year run on the radio on Sports Night with Parker and The Man which was a commanding, daily presence in the Detroit prime time radio market.
"I've been around Rob for two decades," said his longtime co-host Mark Wilson. "Much of that time, day in and day out. He is genuinely one of the nicest, smartest guys I've ever known. He stands for what he believes be it popular or not. To this day he makes me laugh but… he also makes me think. I've been privileged to have him as a long time radio partner but even more privileged to have him as a great friend. I have even put up with his love for the darn "Golden Girls." C'mon, give it up to me for THAT!"
Parker became a mainstay on Detroit TV. He worked at WDIV Local 4 for more than 20 years as an analyst and fill-in sports anchor. Parker also was the 10 pm sports anchor at WXYZ-TV in Detroit. He introduced a concept called Barbershop Sports.
On national TV, Parker worked eight years at ESPN, mostly on First Take with Skip Bayless.
Rob Parker joins Shannon Sharpe and Skip Bayless to talk NBA. Rob Parker discusses Carmelo Anthony and where the Houston Rockets rank among the best of the Western Conference.
Papa Bear
Along the way, Parker also found time to mentor young journalists, including ESPNs Stephen A. Smith and Undefeated Marc Spears and ESPNs Darren Hayes, just to name few. You can include myself on that list as Parker helped me get my first major newspaper gig as a college student in 1995.
So many helped me when I was starting out, he said. I vowed to help as many as I could once I was established.
I take no credit for their success. I helped a little.
Parker also graduated from Columbia University with a masters in journalism and was accepted in a Ph.D. program at New York University.
Parkers most prized possession is his BBWAA card. He votes for the Baseball Hall of Fame. Less than 20 African Americans have that honor. I love baseball the most of all sports, he said. It has a fabric more than the other games. Its apart of who we are.
In 2018, Parker started teaching a sports commentary class at USC in Los Angeles.
Its been an amazing ride, indeed, Parker said. So many great jobs, great memories.
The great @RobParkerFS1 about to get the @NABJ Journalist of The Year award, joins me at 10:16 to talk about the #UrbanMeyer situation
Sure, there were few bumps along the way, too. But this award makes it all worthwhile.
The sports game would look very different if not for the arrival, impact and continual selflessness of Rob Parker, a titan in the world of sports journalism.