After 15 years in the NBA, four World Championships and more big shots than he can remember, Manu Ginobili managed to jump in his time traveler and muster up a few throwback moments at age 39 to lift San Antonio to a pivotal Game 5 playoff win over the Houston Rockets on Monday night.
It was a game the Spurs probably shouldnt have won, especially when Kawhi Leonard went down with a tweaked ankle and had to sit out the OT.
Ginobilis last great game as a San Antonio Spur will forever be defined by two plays as the Argentine Don set the tone with 2:02 left in the first half by cutting to the hoop, rocketing off his right foot and slamming home a right-handed dunk.
WHAT. A. WIN.

Relive last nights overtime thriller in our Game 5 Mini Movie! #GOSPURSGOpic.twitter.com/gyFT9zngZY

San Antonio Spurs (@spurs) May 10, 2017
It was a move reminiscent of his peak glory years from 05 to 11. Ginobili had playoff averages of 20.8, 18.4, 16.7, 17.8, 19.4 and 20.6, respectively. The rest of his resume included two All-Star appearances and two All-NBA selections. He was the 08 Sixth Man Of The Year and made the Second Team All-Rookie back in 02. Hes also only the second player ever to win an NBA title, Olympic Gold and a Euroleague title, and he made the euro-step the behind the back pass of this generation.
The dunk was just the future Hall of Famer's third jam since the start of the season, and his first of 2017. The rare bang would prove to be a foreshadowing of Ginobilis emotional and physical impact on a game that was up for grabs.
Ginobili then blocked James Harden's game-tying, 25-foot shot attempt with 0.3 seconds left in Game 5 of the Western Conference semifinals, preserving San Antonio's 110-107 overtime victory.
It was business as usual for Ginobili, who didnt share in everyones sentiments that a couple of plays constitutes a great game. Then again, San Antonio has three players that were just nine years old on October 29th, 2002 when Ginobili first suited up for the Spurs.
"I don't feel like I had a huge game," Ginobili said in the postgame press conference. "I felt better than the previous ones, that's for sure, but I guess the standards are a little lower than before."
His glory days are gone, but he still has an incomparable and invaluable veteran savvy and championship pedigree that allows him to make huge plays in big spots. Its come to define his career.
Lets put that block into proper historical perspective.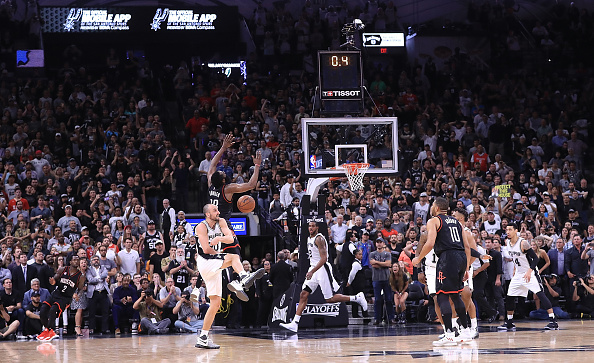 When Leonard went down, the crafty vet and lethal lefty affectionately known as gramps in the Spurs locker room accomplished a feat that few players were able to do during the regular season, considering Harden has attempted 862 3-pointers this season, including the playoffs, with only 13 of those shots being blocked, according to research from ESPN Stats & Information.
"Manu reached back and gave us one of his many performances from past years," Spurs coach Gregg Popovich said. "He was a stud. We actually went to him with Kawhi [Leonard] off the court [due to an ankle injury]. We went to him to generate some offense, and make some things happen. He did a good job, whether it was distributing or scoring. He was big for us."
After the game, Ginobilis teammates raved about him and showed level of comfortability, affection and reverence they hold for a guy whose basketball resume has made him more popular than Lionel Messi in his hometown.
Patty Mills described him as "grandpa juice for supplying the team with an extra boost.
LaMarcus Aldridge said that the right-handed dunk on someone counts for three dunks for him.
Danny Green joked about it in the post game presser.
"I don't know if you saw that wrong-foot, right-handed dunk, but that's one for the record books right there," Green said. "From that moment on, I knew he was locked in. I knew he was going to give us some good energy. Manu is the type of guy where he doesn't care about his points, assists or numbers. He just wanted to win the game.
If Ginobili doesn't nothing else in this series, hes already made his contributions to this 2016-17 Spurs squad. Depending on the severity of Kawhis ankle, Ginobili may have to extend his youth movement another couple of games as this series looks like its heads for a classic Game 7.