LaVar Ball once said in an interview that, "Lonzo don't need no advice from Kobe Bryant"
Obviously Lonzo needs Kobe's inspiration.
Looks like Zo Brother #1 found his groove theory. Who knew all it would take was him chucking his Dads $495 signature brand Big Baller shoe and throwing on some Kobe A.D.'s.
To bring forth his true abilities, Ball drew inspiration and comfort from the greatest player of his generation, an iconic living legend and LAs golden basketball child.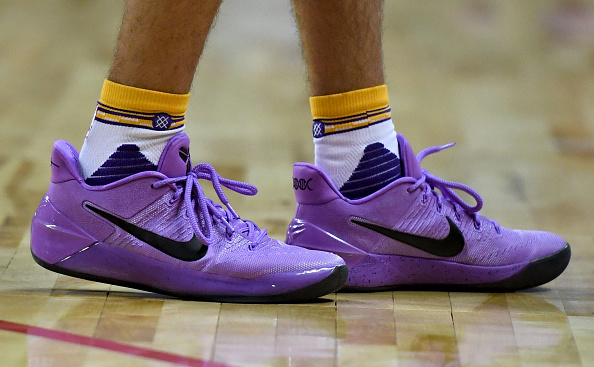 After a couple of unimpressive NBA Summer League games, which even garnered the public wrath of Papa Ball, Zos top promoter and fan, Big Baller brand turned to Black Mamba mentality on Wednesday evening as Zo had his coming out party while scoring 36 points, dropping 11 dimes and snagging eight rebounds to go along with his five steals.
It was the same calm, silky-smooth pinpoint passing, varied scoring arsenal and dynamic overall skill set that scouts and fanatics implored wed see regularly. Lonzo brought the Lakers back from a 15-point deficit in the playoff round of the Las Vegas Summer League to claim a spot in the round of 16 on Thursday against No. 2 seed Cleveland.
Lonzo Ball 36 Points, 8 Rebs & 10 Ast vs 76ers Full Highlights Los Angeles Lakers vs 76ers Summer League Follow me on Twitter @NBALakersNation https://twitter.com/NBALakersNation DISCLAIMER – All clips property of the NBA. No copyright infringement is intended, all videos are edited to follow the "Free Use" guideline of YouTube.
Asked why he changed sneakers, Ball told reporters it was Mamba mentality, referring to Kobe Bryants nickname. Just thought Id switch it up, Ball added. Wore them tonight. Its good when you can wear whatever you want.
That sounded like a backhanded shot at his pops to me. Not a flurry , just one rubber pellet. Obviously Zo isnt comfortable in the show his pops created. Thats what I get from this situation. For a basketball player, wearing sneakers that can maximize your performance and make you feel strong, physically AND mentally, is key to optimum performance.
I wonder if he will trash the Big Baller kicks altogether. Id love to be a fly on the wall in the Ball house when LaVar and Lonzo are discussing the pros and cons of wearing the sneaker in games.
Lonzo switching his sneakers is definitely a blow to the Big Baller sneaker line and LaVar's sneaker empire aspirations, but it doesnt change how effective hes been at shifting the power in the way players negotiate with sneaker companies and how they promote their own brands without giving up financial gain.
Going forward, the $100 million dollar question is whether or not Lonzo will ever play a game in his Dads Big Baller shoe again.