The most pivotal year in Carmelo Anthonys career begins on Tuesday night in Cleveland. Its another journey for a guy who has been celebrated, dissed, discarded, embraced, misunderstood, misrepresented, revered… the adjectives go on and on in a career that began in Brooklyn, was birthed in B-More, became legend at Syracuse and then touched the world once he got to the NBA with the Denver Nuggets.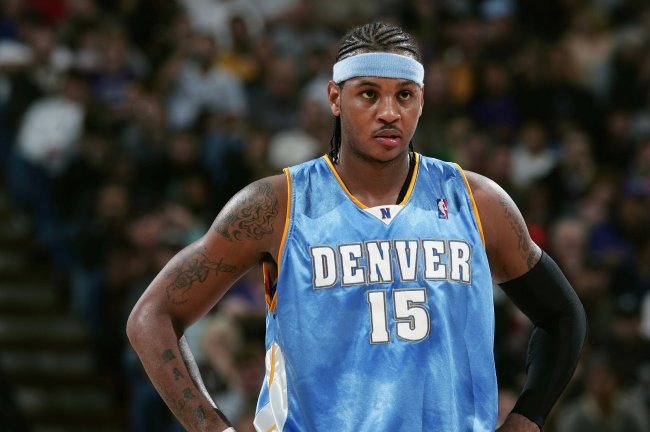 (Photo Credit: bleacherreport.com)
Melo established his place among the NBAs all-time scorers years ago. He put his thing down as a young phenom and then as a veteran, leading the US to a string of gold medals and back to international dominance.
His checkered playoff success has been the black hole tarnishing an otherwise sparkling career. His inability to lift his inferior squads to monumental postseason wins over stars hes considered equal to in stature, has blemished and clouded and obstructed his true place among the superstars of the game.
(Photo Credit: friendlybounce.com)
Melo never plays with anybody, is what his supporters say.
"Melo is selfish and hes a one-dimensional scorer," is what the critical reporters say.
Anyway you slice it, hes put a lot of wear-n-tear on his body carrying teams year in and year out, with no fellow superstar to alleviate the burden.
He gets props for staying with the Knicks when he could have jetted to Chicago in his last free agency. At least thats what supporters say. The anti-NY reporters say he stayed for the money, driven by greed and his wifes thirst for fame as an actress.
In any event, hes still in the concrete jungle, counting on Phil Jackson to put the pieces together to at least give Knicks fans some hope of true upward mobility. When you look around the NBA, it is the paragon of parity and the Knicks new Fabulous Five is the best compilation of starters the franchise has had in awhile, so challenging the Boston Celtics and Toronto Raptors for the Atlantic Division title is not a long shot.
Derrick Rose, Courtney Lee, Melo, Kristaps Porzingis and Joakim Noah look damn good on paper. And they didnt look shabby in the preseason, going 4-2 with little help from Rose who was battling a sexual assault civil suit.
Rose has since been exonerated of any liability and he enters the season with a serious monkey off his back, healthy and ready to rock out. Porzingis is sure to improve in his sophomore campaign and hes happy in New York, having recently signed an adidas deal. Noah is officially home and his grit is effortlessly fusing with the NY atmosphere. Courtney Lee is the kind of efficient, unselfish veteran we have been lacking.
Its an exciting time for Knicks fans, considering how downtrodden the franchise has been over the past few seasons.
But challenging the mega giants of the NBA such as Golden State and Cleveland is another story. We all know the Knicks arent ready to do that.
However, everyone wants to see how Carmelo maximizes these new toys that he has at his disposal. Everyone wants to see if the aging but still effective Melo will further diversify his game so that the Knicks can become that 55-win team that fans are projecting and hoping for.
Whatever happens with this team will fall back on Melo. He gets a chance to set the tone on Tuesday night when the Knicks open a promising 2016 season against his buddy King James and the defending NBA champion Cleveland Cavaliers.
What better way to see what this Knicks team is all about than to throw them in the fire against a finely-tuned machine to jump off the season?
(Photo Credit: usatoday.com)
Sure, it will take some time for the new-look Knicks and head coach Jeff Hornacek, who coached the Phoenix Suns for three seasons, to get the chemistry right. But being that it's the first game of the season, both teams will be at optimum health and at least Knicks fans can begin to gauge what kind of talent level they will be bringing to the floor each game.
And Carmelo Anthony can send a message to LeBron that hes serious about his team and his game. A Cavs victory is expected and really doesnt say anything about the team that we dont already know.
A Knicks victory, although it will be meaningless in June, will go along way towards laying the foundation for excitement at Madison Square Garden and how Melo is going to go out in the history books.