Golden State had the No. 1 seed in the Western Conference locked up awhile ago. And they have been gunning for a return to the Finals since blowing it against Cleveland in 2016 and adding Kevin Durant as the title-clinching piece in the offseason.
When KD went down with an MCL sprain late in the season, the mood changed in Dub Nation, but only temporarily as the championship excitement surrounding Golden State is at a fever pitch with the lethal, lanky forward's return to the team for the last three games of the regular season. The former NBA MVP dropped 29 points in a season-ending win over the Lakers on Wednesday night.
Durant, 28, has been out of action since suffering his injury Feb. 28 two minutes into a game against the Washington Wizards. He returned to the starting lineup on April 8th against the New Orleans Pelicans.
After shooting a combined 0 for 9 from long range Saturday and Monday, on Wednesday KD shook off the rust and smoked the Lakers for 24 points in the first half, shooting 9 for 12 overall, including 4 for 5 from deep.
KD is averaging 16 points and 10 rebounds in his last two games entering the playoffs against the No. 8 seed Portland Trail Blazers, a porous defensive squad that he killed this regular season averaging 29.3 points and 60 percent from the floor against them.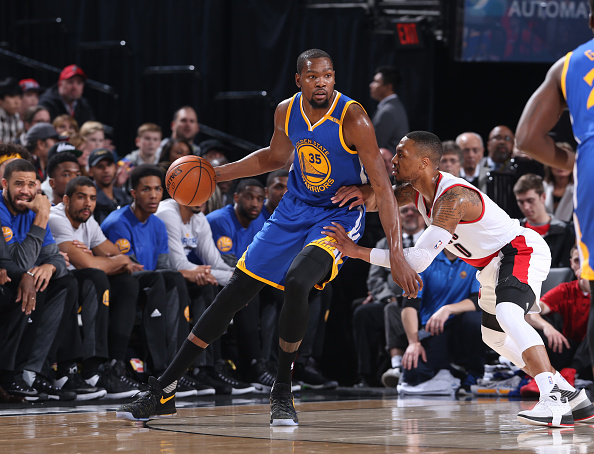 (Photo Credit: Getty Images)
You know Durant is salivating to get on the playoff floor and make this title run. The NBA TV crew, especially Dennis Scott, were impressed by his progress.
Its all about getting his legs under him, said Scott. The confidence is there , you saw the moves… you saw the bounce back in his step.
Kevin Durant is officially back, showing that he can execute every aspect of his game effectively and at an All-star level. Over the past three seasons they have had the greatest regular season run in NBA history. A record 207-39, 42-6 versus the Pacific Division and winning the Western Conference by an average of 7.5 games each season.
Golden State has just added a Bentley to a fleet of Ferraris and now they have to make it all click, but thats a problem Warriors coach Steve Kerr welcomes.
Are you worried about Durant or worried about the Splash brother? Scott asked. That's what (Portland coach) Terry Stotts has to figure out. You cant stop all of them.