Since its inception in the Boogie Down Bronx in the 1970's, Hip Hop has been an unstoppable force.
From the early sounds of scratching and party MCs to the trap music sound of the current generation, the genre has continued to evolve as a sound and as a culture that's been adopted world wide. Although it has its origins up in the Bronx (where the people are fresh), Hip Hop refused to be restrained, quickly spreading and evolving as it went, developing new sounds, vocabulary and styles in every region it captured and was cultivated in.
Two hours south of New York, the City of Brotherly Love has given us so many historical and culturally significant people, events and moments. While "Rocky" might remain the most synonymous with Philadelphia, the musical talent birthed from the city is undeniable, especially when it comes to Hip Hop. With names like Schoolly D, Three Times Dope, DJ Jazzy Jeff & The Fresh Prince, Bahamadia, Beanie Segal, Freeway and The Roots, the Philly Hip Hop scene is one of the strongest in the Nation. Philly, like New York, is also a city which gives respect when respect is warranted, and when it comes to Hip Hop, only those who remain true to their place of birth will be granted the respect they seek.
We spoke to Will Parks (@PhillyWill1) about some of his favorite artists that he rocks with including @MeekMill. https://t.co/m6Wf6zhuu5
One of these artists is Robert Rihmeek Williams, better known as Meek Mill. The Philly born and bred talent began his rap career as a battle MC, hustling and working hard at his craft to elevate himself in the backstabbing, finicky, shady and rewarding business of Hip Hop. And despite the haters and the twitter commentary surrounding the war between him and Drake and his relationship with Nicki Minaj, Meek survived, stood tall, remains true to his city and his roots and has become one of the most popular rappers to hail from the city.
Meek holds a special bond with Philly, a city which takes pride in being tough, hard nosed and hard working. It relishes its role as the underdog and thrives through it. Their sports are a reflection of these characteristics, from the Flyers suitably being named "the Broadstreet Bullies" to the fictional Rocky being loved and cherished as an everyday guy.
The essence of Philly runs through their teams and athletes and it's mandatory that this unique relationship be maintained whenever put on display, something which was held true in the movie "Creed." When they needed a training scene, they showcased Adonis running through the hood, dirt bikes and ATVs in tow. And whose name was called to bring it all together? Meek Mill and his "Lord Knows," putting the hometown rapper on the big screen for all to get hyped to.
I do not own right to movie "Creed". Just a scene from the movie. Song: Lord Knows by Meek Mill Warner Bros. own this content.
But two years later, as 2017 was coming to an end, Meek's life took a sudden turn when Judge Genece E. Brinkley surprisingly sentenced him to two to four years in prison for violating his probation, causing an uproar from fans, politicians, celebrities and those from his hometown, resulting in the trending hashtag #FreeMeekMill.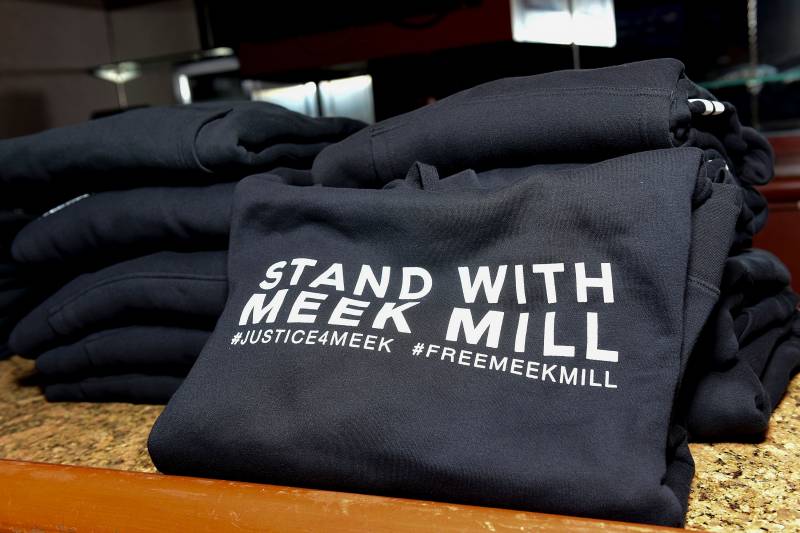 (Photo credit: Getty)
Yet despite his jail sentence and the protests which followed, Meek and his music have not disappeared from the public eye. It's quite the opposite.
With the Eagles' Super Bowl run late in the season, Meek's sound has been played at many games at Lincoln Financial Field. But none could compare to the effect of his "Dreams and Nightmares" being blasted through the loudspeakers during pregame warmups last Sunday at the NFC Championship game.
The electricity which surged through the stadium and players set the tone, and sent a message to the visiting Vikings that they were in serious trouble, for Meek's lyrics were on rapid fire, spitting passion-filled venom to address those who weren't about that life.
57 Likes, 6 Comments – The Shadow League (@theshadowleague) on Instagram: "The @Vikings should have known they were going to get cooked as soon as this happened. #FlyEaglesFly"
The Eagles have taken the hard hitting sounds of "Dreams and Nightmares," adopted it as their anthem and integrated it into their quest for one final win this season. It's a lyrical form of fuel which has propelled the team to the biggest game of the year against the hated Patriots, all supplied by the team's hometown MC.
Listen to Meek Mill's first single "I Don't Know" featuring Paloma Ford! Download on iTunes now! "Dreams Worth More Than Money," coming soon! Buy "I Don't Know" http://smarturl.it/MeekIDontKnow
"It really lifted my spirit to hear the team rally around my songs because that's why I make music to inspire others and bring people together," said Meek in a statement to Bleacher Report and NBCSports Philadelphia. "The Eagles have also motivated me with the way they've overcome tough situations and injuries to succeed this year."
And even though Meek can't enjoy the team's success in person, he understands what it means to his city. And his hometown team knows what his sound means, and does, to them. As soon as Meek starts spitting, you can't help but to mean-mug and bounce. Tell me you don't get chills with his rapid fire style.
How loose are Eagles 1 day from NFC Championship game??? This is a team meeting today You can see Carson Wentz walking in to the fun with cane @LG_Blount hyped From @k_grugierhill IG https://t.co/R2O6Zvqlwa
"I'm so proud of my Eagles for making the Super Bowl and representing the city of Philadelphia. I'm confident my guys are going to beat the Patriots and bring the Super Bowl trophy to Philly."
With Meek in jail and the Patriots being the early Super Bowl favorites, Philly has once again given us all two underdogs to cheer for. Rocky would be proud.