There are no sports movies.
At least not any originally scripted ones. Directors, producers and studios distance themselves from the phrase like it's Alex Rodriguez. During the filming for Rudy and Hoosiers, writer Angelo Pizzo hung a sign on his desk that read, "THIS IS NOT A SPORTS MOVIE."
Many sports films that resonated with the public didn't begin as stories about boxing or baseball, but rather they began with storytellers who wanted to inspire. Sports are one of the easiest metaphors to translate the message for a wide audience.
The Rocky series is a prime example.
"There are certain parallels," Sylvester Stallone told the New York Times in 1976 when asked whether he was the inspiration for his own film. "Rocky had drive, and intelligence, and the talent to be a fighter, but nobody noticed him. Then when opportunity knocked, everybody said, 'Hey, there's Rocky, he's good.' That's what happened to me. The fact that we both went the distance when we were finally given the opportunity, that's the main parallel."
Stallone struck gold with the character of Rocky, as did Ron Shelton – another who hesitates to call his films "sports movies" – with Crash Davis in Bull Durham, just as sports movies were finally making headway in Hollywood, in part, thanks to cheaper cameras and technology (which was still light years behind the iPhone). Independent filmmaking saw a boom at the time, and studios – many of which turned Shelton down for Bull Durham because they thought movies about sports were "box office poison" – were minimized parts of the equation, allowing filmmakers like Gina Prince-Bythewood to drop Love & Basketball, Spike Lee to make He Got Game, and Jeff Pollack to direct Above The Rim…not to mention White Men Can't Jump, Blue Chips, and any other number of gems at the time.
But where have the Rocky Balboa's, Crash Davis' and Jesus Shuttlesworths gone from our sports movies? Though the sports film industry continues on, it hasn't presented us with lasting characters who appear every now and then on the TV like old friends, as Bill Simmons once put it.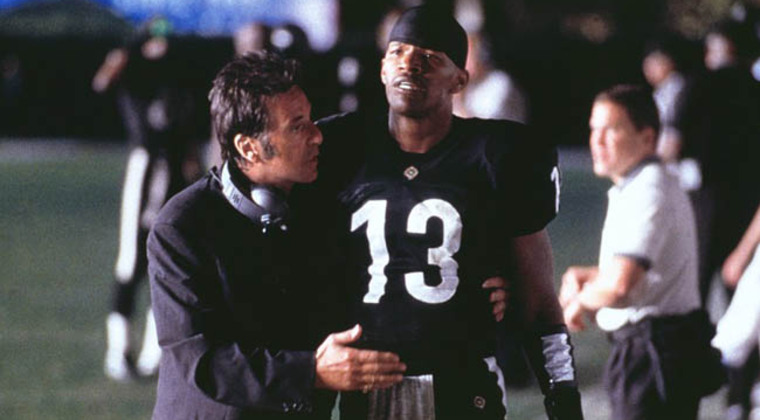 GREAT MOMENTS IN COLORED CINEMA:
Any Given Sunday: The words of Willie Beamen are more prescient than ever.
Samuel L. Jackson Tells The Truth: In A Time To Kill, Carl Lee yells out what we all wanted to hear.
Higher Learning: Laurence Fishburne and Ice Cube are trying to make your life better, fool.
Dave Chappelle Knows How To Stretch A Dollar: Thurgood Jenkins, you sir, are an inspiration.
Kevin Hart's Classic Turn in The 40-Year-Old Virgin: "For the price of 'On the house.'"
Instead, sports movies tend follow a similar formula: Find a strong character, an inspirational plot and roll film. Call it Rocky 101. Unfortunately for the industry, that hasn't turned out to be the smoothest path, as audiences are left with choices between Semi-Pro and Bad News Bears.
During the good ol' days, though, sports movies thrived. Rocky inspired millions of people who bought into the underdog theme. He Got Game spoke about the big-time college basketball world mixed with sociopolitical challenges of the time, plus father issues that many people can relate to.
At the time, sports were a widely accepted tool to transmit those messages, partly because actor portrayals of actual athletic situations weren't given the side-eye in the '80s and '90s. That meant it was acceptable for Sanaa Lathan to join the cast of Love & Basketball, despite the fact that she couldn't remember ever taking a shot before starting to film, as Janis Carr (no relation) wrote on August 23, 1999 for the Orange County Register.
Try pulling that off in today's world, where not only is every game of every sport viewable somewhere, it's most likely viewable in 1080p. That obstacle limits both the director's vision for a film, as well as the actors capable of pulling it off, neither of which helps make a great film.
With those limitations and a formula in place, studios gave sports movies more looks. It wasn't always a good thing. As Kirk Fraser, director of Without Bias, among many other films, says repeatedly, "Quality always surpasses quantity."
Unfortunately, for the last several years, sports movies have been stuck in the bottom of a cultural cycle. "Sports movies are today's Westerns," said Shelton in 2001. "Our contemporary mythology is built around the athletic field and sports heroes. We have our white hats and our black hats, just as my generation had its Western heroes."
Though Westerns don't exist unless paired with aliens these days, sports movies aren't likely to suffer the same fate. The technology that created the first great sports movies kept improving until we got to the point where everyone has the potential to create their own channel.
"I remember when television used to turn off at 11:45 with the national anthem, and that was television," said Fraser. "Now you have over 500 channels on cable, plus satellite and online content."
There is unlimited potential to create, and storytellers, armed with small cameras and tiny mass storage devices, are consistently hitting the mark with documentaries.
"Let's say you live in a small town, and you have no access into Hollywood, but then you create something in your own town and you have you series on YouTube and everyone in town is talking about it," said Fraser. "Next thing you know they're Tweeting about it and it spreads faster and everyone can watch your product. So there is no limitation in terms of what you're capable of doing."
That's a little bit like the story of Chike Ozah, a first-time filmmaker from New Orleans, who partnered with Coodie Simmons from the Chi to make Benji, which went on to debut at Tribeca and lived on as a signature piece in ESPN's 30 for 30 series. It took seven years for Chike and Coodie to make a film despite the backing of Kanye West, for whom they directed a video for "Jesus Walks." But what Chike described as a series of coincidences plus the personal and intimate approach to the film which featured a lot of original footage, got them that first shot.
It was a good one.
"Those scenes of [Benji's] living room is some of the best stuff we've ever put on television because it's so real and so raw," said ESPN's Director of Development, Dan Silver. [Ed Note: ESPN is a funding partner for The Shadow League]
TSL Q&A: The RZA The central figure of the Wu-Tang Clan dynasty talks directing, old school kung fu flicks and idealism. Read more»
None of it would be possible without the technological and digital advances the film industry has made, in addition to a cultural shift in preference from metaphorical to reality.
"Rocky's a good film, but it didn't really deal with the social issues that people were going through at the time," said Fraser. "It was a film that dealt with one person who was determined…it became a film that was very personal. But if you look at it now, kids today don't give a f*ck about that. They're dealing with the real world that they have to deal with."
It explains, in part, why The Fighter was a standout film: Christian Bale's Academy Award-winning performance of Micky Ward's crack-addicted brother took a racial stigma away from drugs and resonated with people on a deeper level. The movie became about a lot more than a struggling boxer's determination.
Ultimately, however, the industry will survive because talented and creative people have stories to tell. As long as that never changes, society will no longer be lacking for quality films; they just might come from Hulu or Netflix instead of the Silver Screen.
"It's more a question of presentation, but ultimately we're talking about fandom," said Silver. "So what it comes down to is tapping into that inherent quality of sports, but at the same time, humanizing it in a way that's broad enough for people to appreciate. But documentaries are movies and scripted features are movies and it really comes down to how you think it's presented and whether you find the humanity and relate to the humanity of the situation. The question now is what story to tell."
Quite the role reversal from 40 years ago. Instead of trying to sneak sports films past studio execs, anyone now has the capability to pick up a camera and begin filming their first sports film.
That may not solve the mediocrity problem in sports films today, as the talent barrier could effectively be removed, but there is little doubt that the next great filmmakers or documentarians already have cameras, YouTube channels and laptops for editing.
Once they find the story to tell, sports movies will reemerge as a cultural force…until the next big thing comes along and complicates the process all over again.