Major League Baseball announced the death of 67-year-old former umpire Steve Palermo on Sunday. He lived in the Kansas City area and had been ill with cancer. In baseball, heroes are measured by their accomplishments on the field. In the game of life, they are measured by the selflessness and integrity of their actions.
Former MLB umpire Steve Palermo was able to distinguish himself in both areas, first as an accomplished MLB umpire from 1976- 1991. Then as a concerned citizen whose burgeoning MLB career was cut short while having a late night meal with a friend. Two waitresses who had just left the restaurant were mugged. Palermo valiantly chased the attackers and was shot, leaving him paralyzed from the waist down.
Our thoughts and prayers are with our friend and former MLB umpire, Steve Palermo, who passed away at the age of 67 today. pic.twitter.com/V17kyUvjl8

Kansas City Royals (@Royals) May 14, 2017
Palermo survived that setback, arduously working to regain his former self. He miraculously threw the first ball for the 1991 World Series that year at the Metrodome in Minnesota and continued to battle and fight for a high quality of life, while always being respected for his exceptional performance at one of the toughest and most critically-judged professions in the world.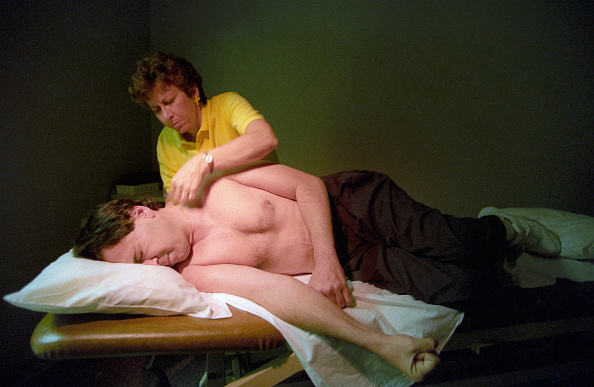 (Steve Palermo rehabbing in 1992/Getty Images)
"I remember when he came up," Hall of Famer George Brett told reporters at the Orioles-Royals game Sunday. "Obviously, it didn't take him long to be respected as one of the finest umpires in the game.
"At the time of his unfortunate shooting in Dallas, trying to save some girl, he was definitely regarded as probably the best umpire in baseball. It's very sad."
Palermo was told he may never walk again, but he did that and then some.
"You gotta be tough, you gotta be strong," retired umpire Tim Welke, who praised Palermo as a mentor, recalled him saying. "He would say, 'If you got to bark at someone, know more than that manager or player is hearing it. There are guys in both dugouts watching and listening, and they'll remember that."'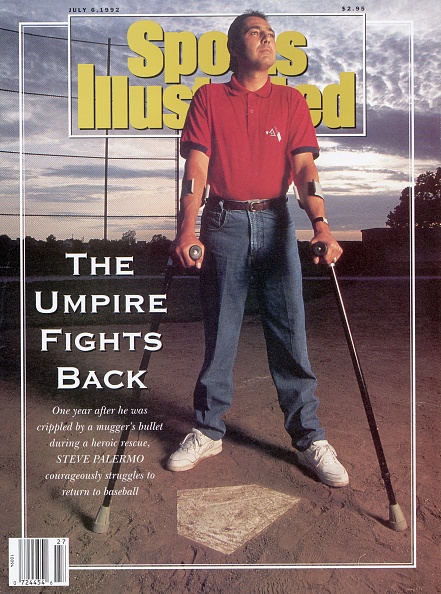 Palermo was the plate ump for some of baseballs most memorable moments like Dave Righetti's no-hitter at Yankee Stadium against the Red Sox on July 4, 1983.
"Steve Palermo was a great umpire, a gifted communicator and a widely respected baseball official, known in our sport for his leadership and courage," commissioner Rob Manfred said.
He went onto became an MLB umpire supervisor in 2000 and is remembered by baseball as a Hall of Fame caliber game-caller.