Like Rodman was for the Chicago Bulls, Draymond is the undisputed defensive genius of the Dynasty Golden State Warriors.
Theres a reason why Golden State is loaded with all-time great scorers and shooters, yet folks never forget to mention that Draymond Green is the difference. No matter what happens with Steph Curry or Klay Thompson or any recently added future Hall of Famers on the offensive end, the outcome of Golden States playoff fortunes seems to fluctuate with the performance and personal conduct of Green.
He's the underdog and the Alpha Dog all at the same time for Golden State. Not enough credit is given to the lunch pail, dirty work guys of the NBA. Most have gone overlooked despite playing highly significant roles on some great teams. On the other hand, their ability to be remembered decades later is directly connected to the overall success of the teams that they played on. Nobody knows this better than Green.
In a world where statistics dictate your greatness as much as anything, the heart-and-soul of many championship teams rests in a less heralded player, who knows how to inspire, disrupt, antagonize and come up big in key moments.
Buy BoingVert's professional vertical jump program for only 9$! http://boingvert.com/max Awesome Basketball T-Shirts! – http://maxfunke.spreadshirt.com Golden State Warriors vs Oklahoma City Thunder – NBA Western Conference Finals, Playoffs 2016 Facebook: https://www.facebook.com/maxfunke947 Twitter: https://twitter.com/maxfunke947 All rights belong to their respective owners! This is just for entertainment!
There haven't been many of these kinds of players to ascend to the level of the big-time bucket flushers and playmakers around them. Especially anointed villains. Dennis Rodman's role as a rambunctious, obnoxious, not-giving-a rats ass defensive beast along with his outlandish behavior and choice of style made him an icon of mythical proportions despite averaging chump change points and playing on a team with "Mr. Basketball" himself, Michael Jordan.
Take a look at Dennis Rodman's NBA highlights.
Green is today's Dennis Rodman.  When he talks, people listen and he doesn't need to drop 40 and grab 20 to do it. In fact, he might just catch you in the family jewels to get your attention.  He's totally immersed himself in the role of being the angry black man on a team of mild-mannered and wildly popular superstars. The way its played out, Green is as Ice Cube once proclaimed, the "Nigga ya love to hate."
He has a brilliant marketing team, which apparently involves his mother Mary Babers-Green, who took to the internet during Game 4 of the Finals to assert (perhaps jokingly?) that the officials were officially paid.
New year, same conspiracy theories from the Dubs' loved ones https://t.co/o5FCiOWebE
When she tweeted this, it appeared that Draymond had been ejected after a second technical foul, in a bizarre sequence that saw the tech get taken back. Mama Green continued to make tweets questioning the validity of the game. Wild, but definitely 2017-type stuff.
In the past week alone Green has insulted the people of Cleveland, fanning the flame and rivalry in a series that's all but over. And he's dared the Cleveland fans to continue to heckle him because it only lets him know that he's in the city's head.
"They show me how important I am to them", Green said after Game 4. "They are at home thinking about me. If you come into the game chanting my name, you be at home thinking about me. So shout out to them for the love."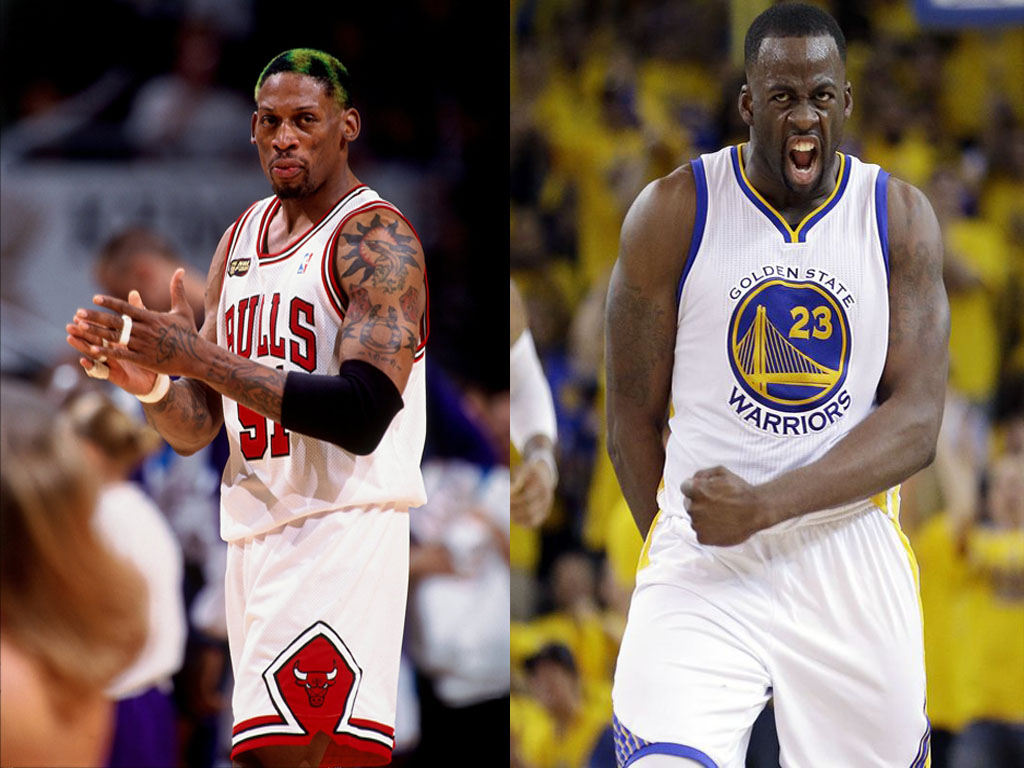 Similar to Rodman, Green has been able to kick, scratch, taunt, argue, bully, rebound and hustle his way to a stat line that makes you yawn at times, but he has an impact on the game that never fails to help him grab some headlines.
Green's personality has always been very strong and loud. Brothers like that tend to make people nervous, and their appearance often fits the stereotypes of black thugs that have been portrayed in movies, TV and reality shows over the past forty years. Chest-beating is a part of Dray's daily operation. His marketability lies in the fact that he doesn't give a damn about marketing.
Let Curry and them sell the jerseys. Green knows that his legacy grows with every ring he can muster and every King he can conquer. The same way that Rodman would engage with the biggest and most NBA-protected superstar on the court, disrespecting him as no one has ever done before, Green gets inside King James head enough to provide the unstoppable force some discomfort.
Draymond may put in a crazy amount of effort when he's on the court…but with a big mouth. Like and Suscribe, ill be posting more videos like this. Just comment below and lemme know which Compilation video i should do next!
Golden State Fans love Dray. Most opposing fans and media think he's dirty. No one really likes a loud Black man in America – unless he's telling jokes. The way Green flops around, initiates contact, argues with the ref over every call and sets records for technical fouls is also reminiscent of that double-edged grit that Rasheed Wallace provided his Trailblazers and championship Pistons, teams.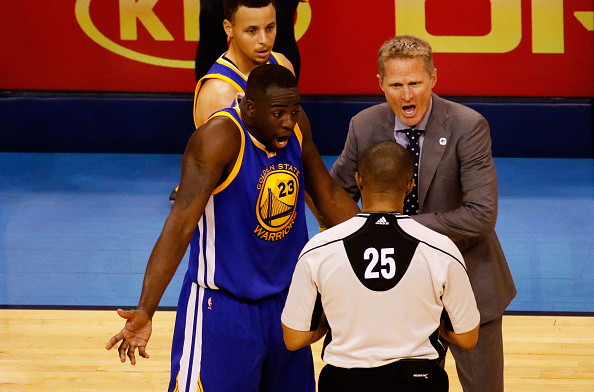 Their unpredictable and sometimes inconceivable actions can either snatch the heart of the opposition or create a bigger mess for their own squads. Guys that you can count on to say and do the outlandish become a must watch because, your'e sure that, for better or worse, their next dramatic incident will play more spectacularly than the last.
Golden State couldn't dig out of the hole Green plunged them into by getting suspended in last years Finals. After all of the heat he took, Green still has no chill. Therefore the referees and the league micromanage him on the court. That isn't really working either.
Pitbulls don't respond to spankings and at times the narrative is that a black man whose psyche was nurtured in harsh urban jungles where flowers had to grow from concrete, or not at all, are naturally rebellious to authority. Dudes like Draymond and Rodman, who are only motivated by pissing people off and ruining careers, make the world nervous. Especially the folks just trying to fit in.
Uploaded by NBALife on 2017-01-17.
People knocked Rodman too. His actions disgusted folks at times, but the end results of his overall contributions to the team were golden. So much so that his indiscretions and faults became an adored aspect of his legacy, because his memories were wrapped in satin sheets of success.
Green is trying to shake his moniker as the ultimate team player AND the ultimate team obliterator by winning his second title in three seasons and erasing the pain of last season. Right now he's flexing his value and has the Warriors one game away from the title.
Regardless of what critics say, a wind like Green blows unpredictably but effectively depending on the season.