DeMarcus Cousins is like Rasheed Wallace 2.0.
Sheed was as talented as they came for a big man, but he was also emotional, demonstrative and combative in nature – especially towards the referees who eventually developed a permanent disdain for him. There was a much shorter fuse for his antics, which definitely led to him amassing an NBA-record  317 technical fouls over the course of his career.
Wallace, from Philly, also holds the single-season record for technical fouls. In the 2000-01 season, he received 41 technical fouls over a span of 80 games. Despite his over-the-top protests and expressions, Wallace was considered a great teammate with a high IQ and a passionate leader. He was a four-time NBA All-Star who scored over 16,000 points and grabbed over 7,000 boards in his career and his verbal jousts with the stripes are legendary.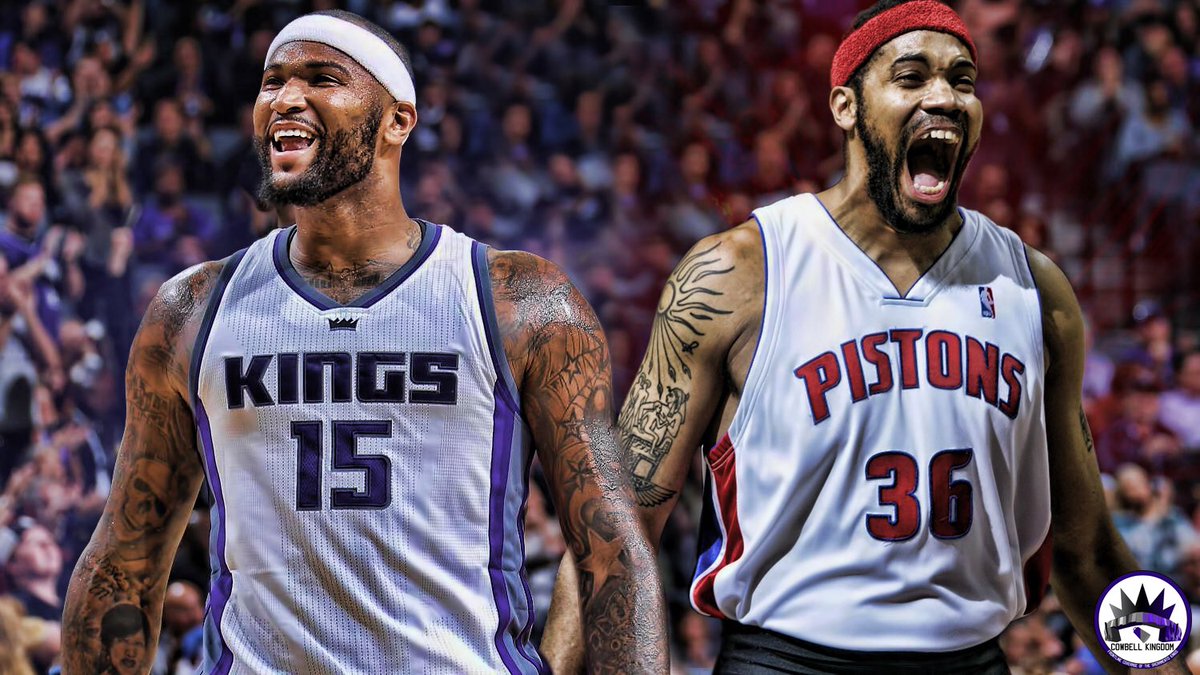 Cousins reminds me of Sheed a bit, but the 26-year-old Sacramento Kings All-Star is in a much different situation. When Wallace was racking up his techs with Washington, Portland, Atlanta and Detroit early in his career, some of those teams were elite contenders. He made the playoffs every year with Portland from 1996-2004 and broke up the Kobe-Shaq Lakers dynasty in 2004. Although Sheed carries the brand of a champion, his rambunctious, borderline obnoxious, non-diplomatic approach was part of the reason that he played for six different squads in his career.
At times it seemed as if he just didn't give a funk. Cousins is the same way, but worse.
According to cbssports.com, Cousins was disciplined by the NBA for two separate incidents, the league announced Tuesday. As expected, Cousins was suspended one game without pay because he picked up his 16th technical foul of the season with 1.1 seconds left in the King's' 112-107 loss against the Chicago Bulls on Monday.
This was an automatic suspension — since the 16-foul limit was instituted in 2005-06, no one has reached it faster than Cousins. In addition to the suspension, Cousins was fined $25,000 for "making an inappropriate statement and gesture" after Sacramento's 109-106 overtime victory against the Golden State Warriors on Saturday.
The statement was "F– Golden State!" and the gesture was raising two middle fingers toward a person wearing a Warriors jersey.
Cousins will miss the Kings' game against the Boston Celtics on Wednesday.
The eruptions are almost expected now like when a baby doesn't get its bottle.
The best center in the NBA may not be the most mature one. Like and Suscribe, ill be posting more videos like this. Just comment below and lemme know which Compilation video i should do next! Copyright Disclaimer Under Section 107 of the Copyright Act 1976, allowance is made for "fair use" for purposes such as criticism, comment, news reporting, teaching, scholarship, and research.
Dude is out of control and throwing tantrums. What makes the situation sadder is the fact that Sacramento has no choice but to hope his behavior improves and throw more money at him. Some have suggested that a trade may be the best thing, but the Kings can't afford to relinquish their franchise player. He's whats holding this pillar of mediocrity in Sacramento together.
They are really at his mercy and according to reports, Kings GM Vlade Divac emphatically says that there is no way that the 26-year-old All-Star center will be traded.
"We're not trading DeMarcus," Divac told ESPN's, Marc Stein. "We hope he's here for a long time.
ESPN reported in early January that the Kings already have begun planning to offer Cousins one of the league's new maximum Designated Player contract extensions — estimated to be in the $219 million range over five seasons — once the new collective bargaining agreement takes effect in July.
You get what you ask for, and to me it seems kind of crazy to hitch your entire franchise to a volatile player who cant control himself. Rewarding him with $220 million dollars is NOT going to curb his behavior and may just sink your franchise even deeper because you arent winning anyway.
And nobody really gives a hater's hoot about the Kings.
While his emotions got the best of him at times, Sheed had veteran guidance from battle-tested game breakers like Damon Stoudemire, Steve Smith, Scottie Pippen, and Arvydas Sabonis in Portland. And he played with some of the games ultimate pros in Chauncey Billups, Rip Hamilton and the crew during his Pistons days.
Cousins has no such veteran guidance in Sacramento, no former NBA champions to rein him in and focus his colossal talents and energies a bit better. He's a great player who wigs out at the worst times. He has no discipline and there's no one in that Sacramento organization that can check him when he costs them games.
Sheed wanted to win, so eventually, he had to tone it down, especially in crucial moments of the game when you're battling for an eighth-seed in the crowded Western Conference like Sacramento is.
For all of his tremendous play and double-double demolitions, Boogies never even made the playoffs in six seasons, and this year they are 20-32 and in 10th place. His immaturity is a large reason for that.