Knicks fans are beginning to accept the fact that Carmelo Anthony will not be a part of the debacle that will be the 2018 Knicks. And if you are a Melo fan at all, then you are kind of happy for dude. Hes been raked through the coals by management and media since he arrived in NY when nobody in the league wanted to come play here.
With Phil Jackson gone, Melo can breath a bit easier and relax. He no longer has to play this tense cat and mouse game with Phil. The NBA free agent season is in full swing and Melo reportedly is finally open to waving his no-trade clause to join CP3 and James Harden on the Rockets or his boy LeBron in Cleveland, which is long overdue anyway.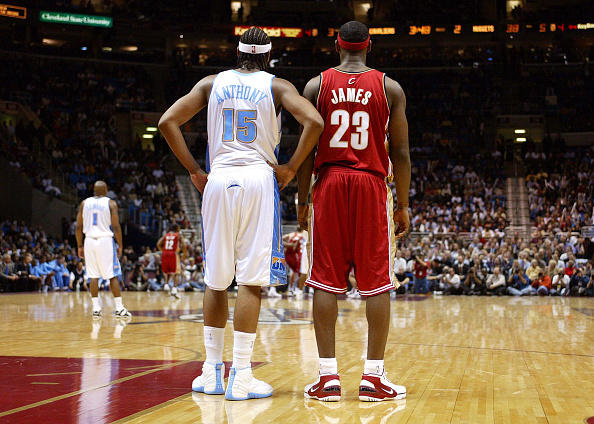 Its gotten so bad for Knicks fans that most are actually cheering for Melo to end up in a destination where he would have a chance to win a championship or go to an NBA Finals — something that has eluded him throughout his illustrious career.
But does adding Melo to Cleveland or Houston give them a better chance of defeating a loaded Golden State squad?
No, (he doesnt), said ESPN hoops analyst Dan Dakich, but if you put him on the second team with the Cavs, you wont go through those stretches where the Cavs are 26 points up when LeBrons on the court and 26 points down when hes not… because Melo can score.
Dakich thinks Melo has gotten a bad rap during his time with the Knicks.
Why is everybody on this (guy) all the time? Dakich asked. (Melo) plays hard and hes not a great defender, but …Hes not the problem on the court… I think he would help the Cavs a ton.
As far as Melo joining Houston to form a Big Three, Dakich feels success is more unlikely with that move because the pieces are kind of overrated.
James Harden cant guard me, wont guard me, Dakich said. CP3 is one of those guys good enough to get you fired…And on that team (adding Melo) is alright but it wont push them past Golden State… but it certain would be helpful.
Any destination is better than the current location one for Melo and as the sands of his careers hourglass continue to sift away. A move to a contender is the best thing for Melo. People will criticize the move and doubt Melos impact or his ability to play with a combination of superstars. What happens once he gets there, however, is unpredictable, but could be career-changing for him. Just ask Kevin Durant.