LeBron James and the Cleveland Cavs are human after all, but it took a Herculean effort by the Celtics to snap the Cavs 13-game playoff win streak dating back to Games 5, 6 and 7 of the 2016 Finals and bring some respectability back to the game.
On Sunday night, the Celtics faced Goliath without the services of their top sling-Shota, scorer, floor general and inspirational leader Isaiah Thomas. It was a true team effort. The Celtics tussled, scratched and scraped with the Cavs and frustrated their superstars to the third degree.
The game began in typical blowout fashion as Cleveland comfortably led 77-56 in the third quarter and Im sure most people turned their TV sets off at that point. However, the gritty Celtics refused to give in and eventually pulled within five (87-82) at the start of the fourth quarter. It was good to see that Boston still had a pulse and with the Cavs shooting 3-of-17 from three-point range and settling for jump shot after jump shot, the game was up for grabs until the end.
The large majority of NBA fans expected Cleveland to muster a late run and take control of the game, but instead, it was the other Celtics guard Avery Bradley who borrowed Thomas role of "Mr. Clutch" and drained a walk off three-pointer with time expiring on the clock to give the Celtics a 111-108 win against Cleveland in Game 3 of the ECF.
Throw in a passive 11-point performance by King James, his fewest amount of points in 58 playoff games, and the Celtics had the perfect recipe for a win. According to TNT, the Cavs are 1-10 when LeBron scores less than 15 points.
The NBA on TNT team ripped LeBron's lackluster effort. Charles Barkley said, "LeBron was not playing tonight. (Cleveland) just went through the motions. They didn't respect the Celtics."
Boston Coach Brad Stevens was cool with the win, but says there is still room for improvement.
I felt like in the first half we played way better than the score, Stevens said in the postgame press conference. Maybe there were a couple of shots we could have challenged better but I was hoping that the law of averages would kick in at some point. I felt both teams were a bit sloppy and our guys were better at end of third. We went back and forth in the fourth quarter and were lucky enough to win.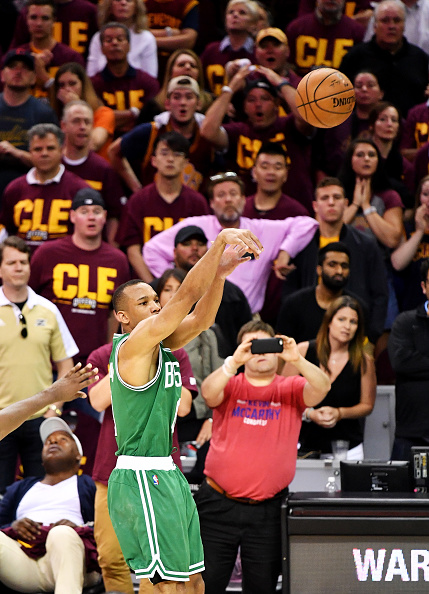 Bradley dashed Cleveland's hopes of an historical undefeated playoffs run and pumped some life into an Eastern Conference Finals series that is now 2-1 and looking way more appealing than it did just 24 hours ago. That 44-point loss in Game 2 on their home court seems like last season now.
"We were playing so well (lately)… but as soon as the ball left his hands you knew it was going to go in," said LeBron
It's a new series and maybe Boston can catch the cocky Cavs slipping again and knot this thing up on Tuesday.