The greatest offensive weapon in the history of the Houston Texans franchise has tossed his cleats up into the wires hanging from the telephone polls midway through his eighth NFL season.
Running back Arian Foster is done giving defenses body and sacrificing his own for the game that he had such a beautifully twisted yet harmonic give-and-take relationship with.
The four-time Pro Bowl back ends his career as The Texans' all-time rushing leader (6,472 yards). The 55 yards he gained on 22 carries this season with Miami puts him at 6,527 career rushing yards, 255 catches and 68 touchdowns.
The digital media company UNINTERRUPTED tweeted a message from Foster, which read: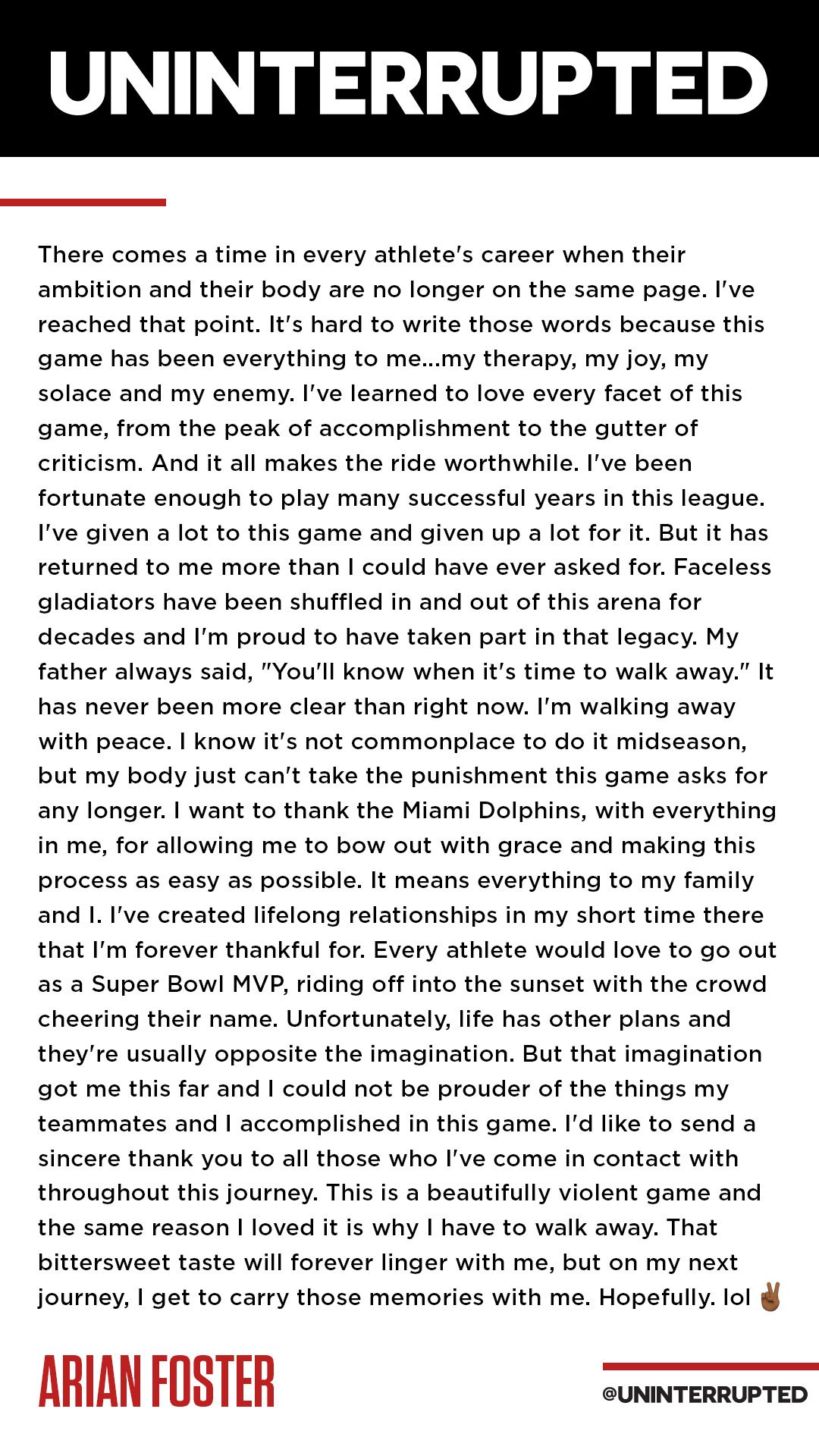 At his peak, he was the prototypical, new age, versatile, star pigskin-toter. When healthy, Foster was the model of consistency, eclipsing 1,200 rushing yards four times with the Texans, including a league-best 1,616 yards on the pound and 2,220 from scrimmage in 2010.
But Foster was far from just an athlete.
He is the opposite of the biased opinion people have historically had of "jocks," as brainless and shallow. He was a philosophy major in college and he is an avid poetry pen-master. He's well versed in politics, has acted in movies and television and is the epitome of a Renaissance Man.
However, with all of the success also came the harsh realities of a grueling NFL lifestyle. Injuries became as strong a theme in his career as the accolades he racked up when he balling. The injuries stole a good portion of the joy that his time on the field awarded Foster and Texans fans.
In 2011, Foster strained his hamstring twice during the season, missing three games. He returned in 2012 to play all 16, but missed eight games in 2013 to undergo back surgery on a bulging disk.
In 2015, he ruptured his Achilles tendon and was placed on injured reserve two days later, ending his season and career with the Texans. The team he ruptured it against, the Dolphins, ended up being the team that signed him in the offseason.
His Dolphins career never really got going as hamstring issues this season limited him to just four games. The recent ascension of running back Jay Ajayi, who rushed for over 200 yards each of the past two weeks helped expedite a process that Foster has seen coming for some time now.
(Photo Credit: sun-sentinel.com)
My father always said, Youll know when its time to walk away, Foster wrote.
It has never been more clear than right now.
"Every athlete would love to go out as a Super Bowl MVP, riding off into the sunset with the crowd cheering their name, Foster added. Unfortunately, life has other plans and theyre usually opposite the imagination. But that imagination got me this far and I could not be prouder of the things my teammates and I accomplished in this game."
Foster will be remembered as a multi-threat back, who at his peak was as good as anybody to ever do it.
The 30-year-old from Albuquerque, New Mexico put his thing down in the NFL for an expansion franchise that began in 2002 and never won more than 9 games or made the playoffs before Fosters arrival from the University of Tennessee in 2009.
Foster carried the Texans to AFC South Division titles in 2011 and 2012. In 2012, the franchise won an all-time high of 12 games and Foster reached 5,000 yards from scrimmage (rushing yard/receiving yards) in his 40th game, becoming the third-fastest player to reach that mark.
(Arian Foster flexing his signature Namaste bow after scoring a TD)
When he was running on all cylinders, the Texans were a problem.
"I admired the way he played, and I admired the physical talents, Texans linebacker Brian Cushing, a longtime teammate of Foster's, said Monday.
He was one of the most talented running backs possibly ever. It's sad, but at the same time, he's moving on in life. He's an interesting character and he probably has a lot to do in his life after football."