Aaron Judge is MLB's most popular player according to Topps baseball trading cards.
As the 2018 MLB season creeps upon us, Aaron Judge was voted to be Card No. 1 in the 2018 Topps Baseball Series 1 by thousands of fans as revealed exclusively on MLB Network today.
Did you see the news on @MLBNetwork? @TheJudge44 was voted as Card No. 1 for 2018 Topps Baseball! https://t.co/fZOmnR36MY
Baseball fans can get the newest Topps Judge card when the Major League Baseball season kicks off with 2018 Topps Baseball Series 1 hitting the stores on January 31.
We labeled the New York Yankees rookie slugger as the new face of MLB after his historic 52-homer season and his captivating performance at the Home Run Derby in Miami in 2017. Some baseball enthusiasts have disputed that assertion, focusing on more established stars such as Mike Trout and Bryce Harper as the faces of the sport.
Here is Aaron Judge's three-run shot that JUST makes it over the left-field wall:
Opinions on talent, likeability, and marketability will always be up for debate, but what can't be disputed is that in 2017 Aaron Judge was the most popular player in the game. He's a Black Knight that has a tight end, Paul Bunyan-like size, is cool as Shaft in Liberia naked and plays for the most legendary and renown franchise in professional sports.
In September, The Topps NOW card commemorating his 49th and 50th home runs of the season, which was available to fans for 24 hours, sold 16,138 pieces, the most ever for Topps NOW, the joint venture between Topps and MLB that provides the best images to fans on a daily basis.
In November, Judge and Yankees newjack standouts Aaron Judge and Jordan Montgomery were named among the 11 MLB players selected to the Topps All-Star Rookie Team.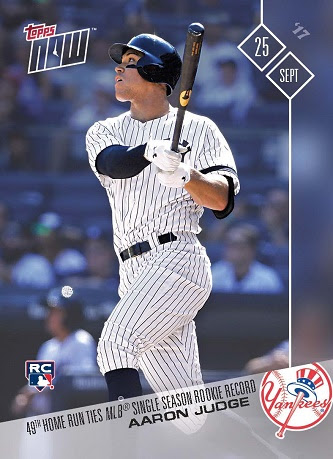 Fans can also find rookie cards, autograph cards of their favorite players, and an interactive sweepstakes that will last all baseball season with Home Run Challenge.
Aaron Judge transcended baseball during his record-breaking rookie season, said David Leiner, Topps Global General Manager in a statement released by the card company, now in its 70th year. Fans from across the league were excited to see him play so it comes as no surprise they voted for him to be Card No. 1 for this years set. We are thrilled to add him to the list of great players that have been featured on the first card of the year.
Gary Sanchez ousted reigning champ Giancarlo Stanton early, but it was Aaron Judge who would emerge as the winner with 47 total home runs Check out http://MLB.com/video for more! About MLB.com: Former Commissioner Allan H. (Bud) Selig announced on January 19, 2000, that the 30 Major League Club owners voted unanimously to centralize all of Baseball's Internet operations into an independent technology company.
Judge joins players such as Jackie Robinson, Ted Williams, Mike Piazza and Derek Jeter as those who have claimed Card No. 1. Mike Trout and Kris Bryant were voted to the top spot the last two seasons, respectively, through an online vote.
His impact on MLB in just one season, is undeniable. Now he is immortalized in Topps card history, just another step in his journey towards